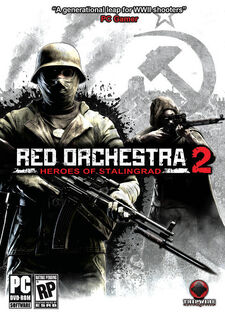 Welcome to the Red Orchestra 2 : Heroes Of Stalingrad Wiki
Edit
This Wiki is currently outdated and lacking content.
Be advised that many pages and information you may be looking for could be missing or wrong.
At the current time (As of 25/07/17) one person is attempting fresh maintenance on this Wiki. Please standby for updated content. In the meantime feel free to help or check out any information currently here.
- If you wish to contact me in regards to this Wiki then add me here.
Pages (work in progress)
Edit
Red Orchestra 2 Weapons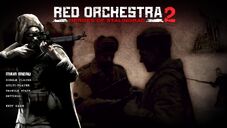 Multiplayer Game Modes and play styles
Multiplayer Maps
Useful Links
Edit
Steam Store page for Red Orchestra 2: Heroes of Stalingrad
Official Steam group for Red Orchestra 2
Red Orchestra 2: Heroes of Stalingrad Page
Ad blocker interference detected!
Wikia is a free-to-use site that makes money from advertising. We have a modified experience for viewers using ad blockers

Wikia is not accessible if you've made further modifications. Remove the custom ad blocker rule(s) and the page will load as expected.